The Brackets

Serving as an intermediate support, the intermediate bracket positions the lifeline cable. It can be installed in many different configurations (on the ground, at various heights on the wall, etc.) and at regular intervals, to ensure optimum distribution of forces along the lifeline. It is shaped specifically so as to allow the automatic passage of the shuttle without the user ever having to disconnect the lifeline. It also makes it easier to incorporate the lifeline into the building thanks to a new original element: a protection cover guaranteeing that the anchorage points are tamper-proof while improving the overall aesthetics of the system.
In the eventuality of a fall occurring, the evolution intermediate bracket deforms under the force and acts as an energy dissipater and a fall indicator. This helps reduce the fall impact force and the risks of incorrect use. The chosen materials (stainless steel, anti-UV polymer) guarantee the longlife and durability of the shuttle and the intermediate bracket.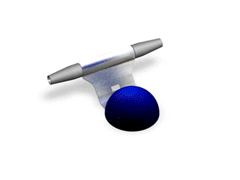 evolution intermediate brackets - Main features
* Installation by single attachment facilitating lifeline assembly (reduction of installation time)
* Monobloc intermediate bracket guaranteeing greater strength in case of fall.
* Automatic shuttle passage on both sides of the lifeline without any need to disconnect.
* Integration of a polymer cable guide to reduce friction to the minimum (shuttle passage, installation and tensioning of lifeline made much easier).
Please Note: intermediate brackets for the DBI-SALA post or overhead installation are also available