evolution offers solutions that are ideally adapted to the installation of lifelines on all kinds of industrial roofs (trapeziodal panels, standing seam, membrane etc.) thanks to a combination of post and bases that are easily installed on every type of roof without affecting the integrity of their structure in any way.
Integrating L E A P (Linear Energy Absorption Product) guarantees constant absorption of forces through a predefined range. The main objective is to reduce the forces at the anchorage points so as to protect the structure.
Because of their high energy dissipating capability, it`s advisable to install L E A P system absorbing posts in the lifeline at the ends and on the curves. However, use at intermediate points is also possible when the installation calls for a major reduction of the forces. Simulation using the evolution calculation software is indispensable for controlling strength levels and clearances.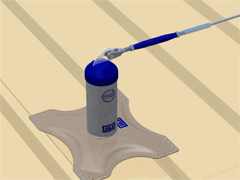 The evolution post consists of two parts : a post (with L E A P energy absorption or of the tilting type) and a base attached to most modern roofs. As necessary, the post can be equipped with an anchorage point, an intermediate bracket or a curve. Posts are installed directly to the metal panel roofs quickly, easily and without any drilling into the roof (thus avoiding any problems of waterproofing and thermal bridging). It does not require any connection to the building structure.
evolution posts - Main features
* Integrate the LEAP system guaranteeing smoothing out of forces at a preed value.
* Compatible with most industrial roofs (trapeziodal panels, standing seam, membrane).
* Triggering level adjustable (in the factory) for specific applications.
* Easy installation without any anchorage to the frame and thus preserving waterproofing.
* Reduction of forces in case of fall preserving the integrity of the roof.
* Conforms to international standards:
EN795 class A • ANSI Z359.1 • CSA Z259.16 • AS/NZS 1891 part 2 & 4