The Absorbers

evolution incorporates an energy absorption system of a revolutionary new design. It is equipped with the L E A P (Linear Energy Absorption Product) system which allows for the precise, linear adjustment of the absorber triggering value and absorption threshold.
Protecting the structure, absorbing forces at the anchorage points, and guaranteeing the safety of the workers were the goals for the development of this new type of energy absorber. In the event of a fall, the L E A P system guarantees constant absorption of forces in a predefined range. The maximum value of the forces permissible along the lifeline is calculated by means of software developed for evolution. Depending on the constraints represented by the buildings, the activation value and the absorption threshold can be optimized during the production process.
The considerable energy dissipating capacity of the evolution high capacity absorber means that it is capable of handling several falls simultaneously while maintaining the forces on the building below a threshold of 10 kN (2250 lb/ft).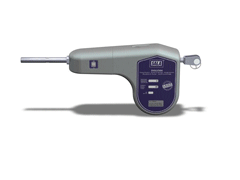 Its compact design also includes a window displaying the tension on the cable as well as an end clevis compatible with all the evolution anchorage points. Swaged definitively to the cable, the absorber is installed at the beginning or end of the line, or if necessary at both ends, depending on the results obtained with the evolution calculation software.
evolution shock absorber - Main Features
* Integrated L E A P absorber : guarantees the smoothing out of forces to a predetemined value.
* Triggering and absorption level adjustable (in the factory) for specific applications.
* High absorption capacity of more than 60% compared to traditional absorbers.
* Cable tension display window.
* Wide cable tension adjustment range.
* Monobloc, protection housing and force indicator.
* Choice of materials to ensure long life and durability (stainless steel, anti-UV polymer).
* Supports several falls without any loss of performance.
* Through swaging: complete swaging guarantees optimum safety.