To fulfill the installation and safety needs of each site, evolution comes with a range of curve parts enabling every possible curve to be formed to follow as closely as possible the movements of the users. There are curve solutions for every type of installation (wall, post, or overhead).
With its patented flexible cable guide, it is now particularly easy to use the same curve part to form a curve ranging 15° to 45° for a short curve or 45° to 90° for a long curve. The anti-rotation system (also patented) makes it possible to keep the curve totally horizontal in line with the cable to guarantee optimum passage of the shuttle.
The specific shape of the evolution short curve is based on the same concepts as the intermediate brackets, allowing the shuttle to pass automatically around the curves without the user ever needing to disconnect the lifeline.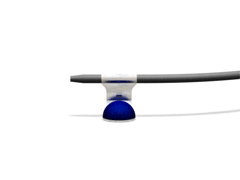 evolution curves - Main features
* Installation by single attachment facilitating line assembly (reducing the installation time).
* Monobloc intermediate curve guaranteeing greater strength in case of fall.
* Automatic passage of shuttle either side of lifeline without any need to disconnect.
* Incorporation of polyamide guide-cable reducing friction to the utmost (shuttle passage, installation and tensioning of line made much easier)