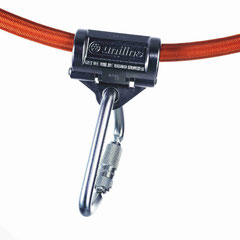 The Uni 16 fall protection system is best suited to specialist fall protection situations and to installation on older structures where connection to steelwork, brickwork or concrete is necessary and where a reduction in structural penetrations is desirable. The fall protection system is also very suitable for industrial safety applications and working at height.
In many circumstances, the product can span 25 to 50m between support brackets. Uni 16 offers excellent functionality through it's free flowing bypass capability and can navigate corners and contours in building designs. Systems with corners will require shorter spans.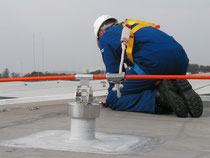 The fall protection system can be fitted to steel beams, concrete, brickwork and a variety of roof constructions using rigid anchors. The fall protection system can also support multiple workers for both fall arrest and fall restraint work applications. Detailed information to ensure safe system design and integration is provided by our comprehensive Capital Safety for Windows software programme.
The Uni 16 Fall Protection System was the first permanent 'engineered' synthetic lifeline system to offer pass through components, corners and real user benefits, and at last count has seen installations of over 350,000 metres of systems.
The product continues to take pride of place in the Capital Safety product range today and due to its unique properties solves some of the most demanding and complex fall protection problems in the world. To this day, it is still the only globally recognised permanent synthetic lifeline product and is unrivalled in the fall protection industry for its unique benefits.

Key Feature and Benefits
*The fall protection system is rigorously tested product backed up with custom system design capabilities, ensuring your system will work to protect your employees when required
*The fall protection system meets current international product standards, tested in accordance with EN795 and CE Marked to the PPE Directive
*All supporting documentation available for the fall protection system, including user instruction manual in various languages
*316 stainless steel components ensure quality safety system that will withstand harsh environments and uncompromising levels of safety when needed
*Electro-polishing provides greater longevity, adding value to your investment and saving future maintenance and replacement costs
*Coloured cable options including grey and black help you to blend the fall protection system in with the building environment and a bright orange colour can highlight the cable for safety
*The cables unique properties and load re-orientating intermediate support brackets reduce structural loading and increase products ability to adapt to the building or structures tolerances
*Can be fitted to a range of roof anchors to adapt the product to a variety of installation scenarios
*The fall protection system offers workers continuous hands free movement and navigates corners and building contours, thereby providing maximum design and integration flexibility
*The fall protection system can span up to 50m (subject to site conditions and customer requirements) making Uni-16 a very flexible safety solution
*Resistant to ozone and UV degradation and carries a built in safety indicator
*Also available as a temporary solution