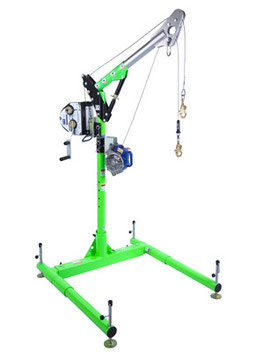 The Advanced Series Hoist Systems are designed for manhole and confined space entry/retrieval applications. These units are constructed of lightweight
materials including high-strength aluminum. The Davit pivots for ease of rescue and has a limited adjustment for overhead clearance restrictions.
The lower base adjusts to fit most standard entries. Many other bases are available. Options include lower masts to match over height requirements.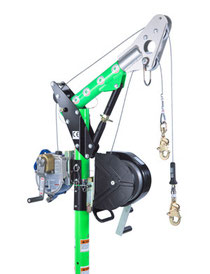 Variable Offset Davits are designed for use where multiple offset masts are required. The Variable Offset Masts may be equipped with front mounted
and/or back mounted winches or SRL's and feature a 5000 lb. (2272 kg) capacity anchor point for f arrest anchorage. For applications with overhead clearance restrictions, the adjustable height of the Variable Offset Masts can eliminate the need for custom length masts and mastextensions. The addition of the quick-release pin ows for easy collapsibility and transport.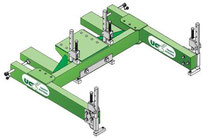 Advanced Portable and Fixed Bases work with a variety of Advanced Davit Arm and Mast Extensions. Portable bases are ideal for work areas where frequent set-up and tear down is required. Fixed bases mount to existing
structures
DBI Advanced Portable F Arrest System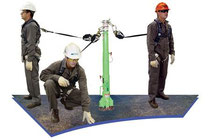 The Advanced Portable F Arrest Post (Pt#: 8516691) is specificy designed for use on top of transformers or other types of vertical platforms with potential f hazards. It's compact and lightweight design of only 38 lbs makes the post very easy to transport and put in place.
The system features 3 independent swivel anchor points. They can rotate 360 degrees, offering freedom of mobility for up to 3 workers with self-retracting lifelines or fixed length lanyards.