Tie-Back Talon™ self retracting lifeline, twin leg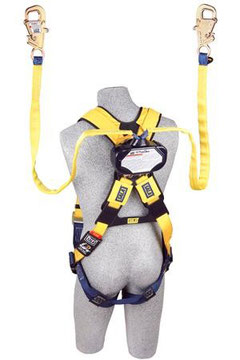 * The industry's first SRL that is designed to withstand the forces and wear associated with tie-back use.
* Unique snap hooks with 5,000 lb gate strength designed specificy for tie-back use.
* Eliminates the need for a separate anchorage connector, minimizing cost and instation time.
* Three layers of webbing in the tie-back area of the lifeline provide more abrasion resistance for added safety.
* 3.5 ft of tieback webbing ensures that the lifeline can be anchored around most structures.
* Impact indicators on each leg of either the single leg version or twin leg version.
* Compact, lightweight design does not hinder movement providing added worker satisfaction and productivity.
* Quick connect handle ows it to be mounted to a full body harness.
* Durable nylon plastic housing features a non-obtrusive design with rounded corners, providing -day comfort.
* Meets applicable industry standards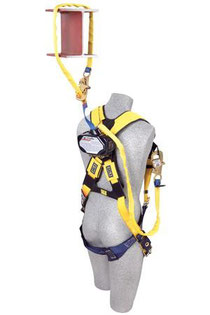 Built-In Anchorage Connector:
The Tie-Back Talon's design eliminates the need for an anchorage connector like a tie-off adapter, fixed beam anchor or D-ring plate. With the use of the 5,000 lb gated snap hooks designed for tie-back use and three layers of abrasion resistant webbing, the end of the lifeline can be wrapped around anchorages and tie-back into itself. This eliminates the need for a separate anchor connector.
Reduced F Distances
Talon's automatic, inertia activated brake will lock quickly stopping a fing worker within inches providing more protection at low heights. With the lifeline secured overhead, the total f distance (free f deceleration) is limited to 42 inches or less. By reducing f distance, the arresting forces are also minimized helping keep the worker safe and sound.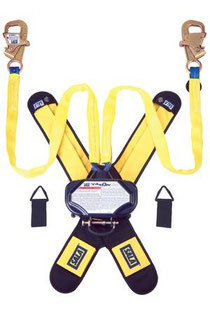 User Friendly
Talon quickly and easily attached directly to the back of the user's harness by means of the built-in quick connect handle. For the twin leg version, a securing strap holds the housing in the correct position, preventing it moving around during work activities. When not in use, the lifeline hook(s) can simply be attached to the lanyard keepers, keeping them out of the way. Impact indicators on each leg of either the single version or twin version makes inspection quick and easy.
Pro Y - Lanyard 2m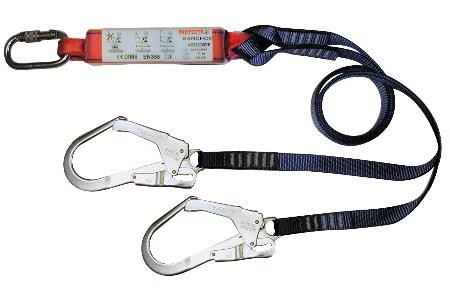 Absorbing element
- tear strap polyamide
- security polyester webbing - width = 45 mm
- impact force reduction < 6 Kn
Webbing
- polyester
- width 25 mm
Sewing
- thread high strength polyamide
Karabiners
- strength (A) > 2500 daN (B) > 2300 daN
- opening (A) : 17 mm - (B) : 50 mm
- high strength forged steel
- white electro-zinc-plated
System breaking strength : >1500 daN
Net weight : 1685 Gr
Comply with the EN355 standard
Lanyard Models