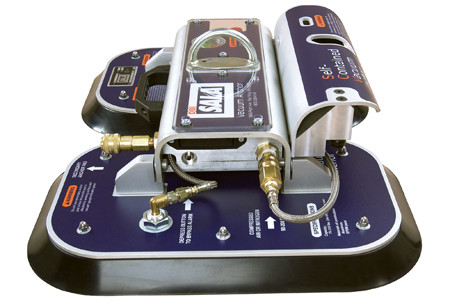 With a Vacuum Anchor System at your workers' side, they can anchor to virtuy any smooth, non-porous surface simply by flipping a switch and waiting for the green light. So whether they need to repair a skylight atop a locomotive or repaint a section on a water tower, they'll always be able to quickly, and easily put themselves where they need to be—without putting themselves in danger.
Materials-Specifications:
Our most portable, user-friendly Vacuum Anchor System. Designed for basic, one-person use, this system is completely self-contained. No separate pumps, vacuum hoses or other components. It can be powered up quickly and easily with a single, on-board compressed gas bottle or a large capacity detached bottle, or shop air.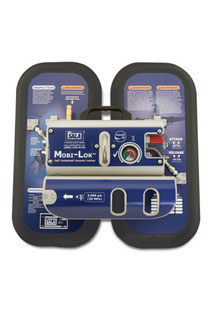 * Main Support Assembly: Anodized Aluminum
* Vacuum Seal Pad Material: Natural Rubber/Polybutadiene Blend
* Electronics: 4 AA lithium batteries
* On-Board Compressed Gas Bottle Requirements: 3,000 psi,
* Dimensions: 55 cm x 55 cm x 15 cm
* System Weight: 9.0 kg
* Capacity: 140 kg ; One person
* Surface Temperature Range: -29˚C to 60˚C
* Minimum Vacuum Anchor Static Capacity: 15 kN
* Shop Air Requirements: 80 – 150 psi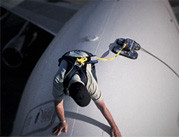 Key features-Benefits include:
MULTI-PURPOSE. MULTI-BENEFITS.
- Secure anchor point
- Easy to use carrying handle
- Fail-safe backup system with audio alarm
- Shop air quick-connect
- Natural rubber/polybutadiene blend seal won't break down and will last in a harsh environment
- Pad conforms to work surface as sm as 1.52m in diameter for jobsite flexibility
- Optional bottle attachment provides increased portability
- Visual vacuum level indicator