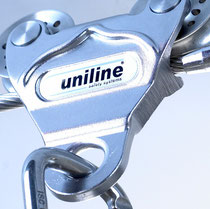 The Uni 8 Overhead Horizontal Lifeline System is a unique fall protection safety product. It offers both fall arrest and restraint capabilities using a 1 x 19 8mm stainless steel cable, which is secured to a structure using a range of anchorage fittings.
The two wheeled attachment carriages are secured to the system during installation and when in use move over the intermediate brackets without interruption. It is a true hands-free system. The horizontal lifeline system has a minimum breaking strength of 38 kN and can span up to 30 metres between intermediate supports. This is achieved through high pre-tension loading in the cable of 5kN combined with the properties of the 1 x 19 8mm cable. A complete range of structural end anchors are available to enable the horizontal lifeline system to integrate with the structure. The Uniline Horizontal Lifeline is designed to provide a facility to enable safe working at heights in accordance with current regulations and safe access to a variety of otherwise dangerous situations, or to restrain personnel putting themselves at risk. There are two types of horizontal lifeline.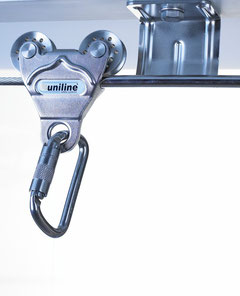 The Uni 8 Overhead Horizontal Lifeline System consists of a horizontally mounted lifeline that spans the work area and is fixed at either end to the structure via anchorage connectors. The horizontal lifeline may be supported at regular intervals by intermediate brackets. The intermediate brackets help to reduce the loads in the event of a fall, limit cable deflections and allow for longer single installations. The Uni 8 Overhead horizontal Lifeline System is only suitable for mounting 1.6m or more above the work area or walking surface and does not navigate corners or changes in direction. In order to ensure best performance of the horizontal lifeline system, it should be installed so that it is completely level.
Key Features and benefits
*Free running attachment carriage ensures complete freedom of travel and therefore ease of movement for the user
*Sealed bearings in the carriage wheels reduce the need for maintenance and contribute to reduced costs of ownership
*High tensioned stainless steel cable supports heavy fall arrest devices when required, making it suitable for use in high structural situations
*Reduced cable deflections make the horizontal lifeline system suitable in areas of where there is minimal ground clearance, increasing the potential for use
*In line energy absorbers reduce load transfer to the structure in the event of a fall, which would otherwise be too high in some cases
*Available as a single or multi-span horizontal lifeline system and therefore suited to long span structural situations. Electro-polished components provide long term corrosion resistance
*Uniline for Windows software calculates system performance to ensure all horizontal lifeline system designs meet customer needs and are safe
*Supports multiple workers up to 140kg, where most products in the market are only rated for 100kg
*Tested to EN795 class C and CE Marked and meets the requirements of AS/NZS, OSHA, ANSI and CSA for horizontal lifelines
*Uniline Systems Integrators can provide design and installation of supporting steel structure, thereby delivering a turnkey solution