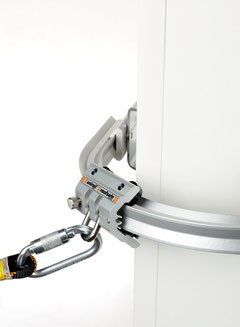 The UniRail product is best suited to modern building projects, in particular for internal and external façade access, inspection and maintenance including walkways and suspended gantries. The product has also been used extensively for suspended access work by rope access technicians, as it meets the requirements of both abseil and fall protection standards.
In addition it is very effective in industrial height safety applications, where limited ground clearance or narrow walkways would adversely affect user safety considerations, or where significant distance between the working platform and the anchorage system would affect functionality.
Alongside facade access, the UniRail System should also be considered for small fall arrest safety installations as loading of the structure in the event of a fall is low due to the products fixing specifications and it can be very cost effective compared to other solutions, such as cable.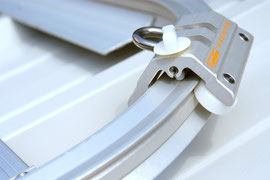 The product is a quality extruded aluminium rail system, which provides a high level of user safety combined with an aesthetically pleasing appearance. In typical circumstances, the product can span up to 3m between support brackets (perfect for facade access) using a range of anchorage brackets which adapt to site conditions. Furthermore UniRail offers excellent functionality through its free flowing attachment carriage and with no brackets to pass over, the users experience with the system is truly hands free. The facade access system is also capable of navigating corners and contours in the building or structure to provide complete design flexibility.
Minimal moving parts and high-grade materials ensure long life expectancy, low cost of ownership and add up to a sound investment.
The system can be fitted to steel beams, concrete and brickwork for facade access. The system can also support multiple workers for both fall arrest and fall restraint work applications – ideal for facade access. Detailed information to ensure safe system design and integration is provided by our Technical Support Team
LAD SAFE RAIL LOK