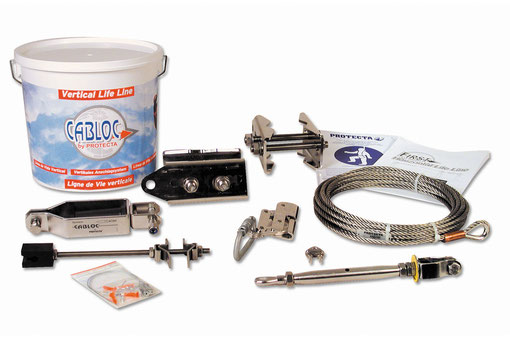 The PROTECTA Cabloc Vertical Life Line Kit is a complete engineered guided-type fall arrest system in kit form. The kit is designed for vertical use only and prevents accidental falls whilst climbing or descending fixed ladders on a number of structures. Dependant on the kit ed, systems can be constructed to suit ladders ranging 1-30 metres. Kits are available in 10, 20 and 30 metres.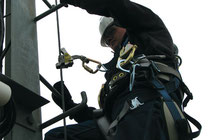 The system utilises the Cabloc fall arrest device that attaches to the cable of the installed system, and connects to the frontal fall arrest rated D-ring of the users harness via karabiner (included in kit). A PROTECTA AB108AU ladder access harness with front and rear fall arrest rated D-rings is recommended for use with the kit. The Cabloc device travels freely along the cable that is attached to the ladder or pole via the system. If a fall occurs, the fall arrestor grips the cable and locks down, automatically arresting the fall within 300mm.
The Cabloc kit offers peace of mind and complete hands-free operation enabling the user to climb or descend unhindered whilst connected to a fall arrest system at all times.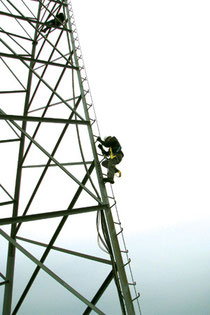 * Complete vertical lifeline solution in a kit - 30m system
* Ideal for providing safe access on fixed ladders, tower heads, poles, lighting towers, chimneys and many other structures
* Cabloc fall arrest device (includes karabiner for harness connection) easily connects/disconnects at any point on the safety line by removing the karabiner
* Cabloc device automatically follows your climb / descent without obstruction - provides complete hands-free and smooth operation
* Cabloc device locks onto the cable in the event of a fall (preventing and arresting a fall within 300mm)
* Includes pre-tension indicator disk to ensure correct safety line tension
* Corrosion resistant construction - all stainless steel components
* Easy to install (includes full comprehensive instruction manual)
* Meets or exceeds all applicable industry standards