As the central part of the evolution lifeline, the shuttle accompanies the user along the lifeline, smoothly passing the intermediate brackets. With its unique spherical shape, the specific design of the openings, and the incorporation of two pairs of rollers it has exceptional ability to slide along the line to the point that the passage of intermediate brackets and curves is imperceptible (even when used with a retractable fall arrester device).
The automatic locking system of the shuttle eliminates any possibility of incorrect manipulation during connection to the cable. Its spherical shape means that it is easy to grip and can be opened one-handed (double safety lock) while also providing it with excellent resistance to shock.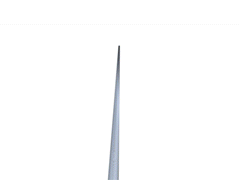 evolution shuttle - Main features
* Optimum sliding along the cable, automatic passage of intermediate brackets and curves.
* Capability of working on both sides of the lifeline without disconnecting due to rotation through 360° of the anchorage ring (which is also large enough to allow the connection of almost any type of connector).
* Possibility of connecting or disconnecting the shuttle at any point on the lifeline.
* Compact shape (light and strong) and excellent ergonomics (easy manipulation).
* Permanent connection of the link element (lanyard, fall arrest system) to prevent loss or falling of the shuttle during manipulation.
* Possible to use with retractable fall arresters (see list of compatible devices).
* Automatic locking on closure.
* Double safety opening activated by two distinct actions on the shuttle.
* Tested individually (manufactured under ISO 9001 quality control).
Please Note: The evolution shuttle is also compatible with the Ariana® and Sayfglida® systems (8 mm and 12 mm) for better integration in a multi-system environment.