Rollgliss® R500 Descender, 40m length with rescue hub and ladder bracket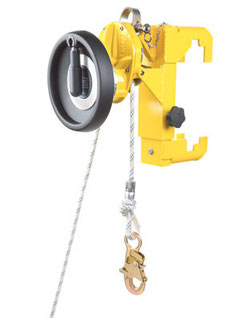 Rollgliss® R500 Descender, 40m length with rescue hub and ladder bracket
* Unique solution for emergency rescue and evacuation a wide range of elevated work areas.
* Versatile system is ideal for self rescue, multiple evacuations or even assisted rescues - rated for two person rescue.
* Compact and lightweight design with fully automatic controlled descent at 0.9m per/second enables fast and safe rescue.
* Unique bi-directional design ows one end of the lifeline to descend while the other ascends ready for another rescue.
* Optional lifting wheel helps facilitate safe assisted rescue a distance.
* Fast instation and easy operation enables efficient and effective rescue.
* Device is designed high-quality and corrosion resistant materials for maximum performance and durability.
Rollgliss® R250 Rescue Kit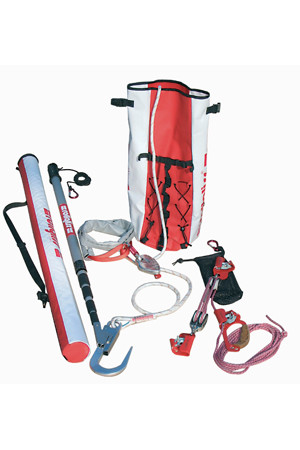 * Designed for the rescue of a worker left suspended at height after a f
* Safe, reliable and cost effective packaged rescue solution for use in industrial rescue
* Easy to operate, no specialist tools, rescue skills or power source required
* Fast efficient rescue - on average a rescue takes less than 10 minutes
* Large hook design makes it easier to connect the rescue device to the suspended person
* Complete rescue kit - lightweight and portable, everything is contained within the carry bags
* Kit includes R250 descender with karabiner, rope and safety hook, extension pole, mini-haul system anchorage strap, and two carry bags
* 10 metre rope rescue system comes with 10m, 20m, 30m and 50m rope.
* Meets or exceeds applicable industry standards
Available in different rope lengths/systems:
10 meters - AG62501010
20 meters - AG62501020
30 meters - AG62501030
50 meters - AG62501050
The DBI-SALA Rollgliss® R250 rescue kit has been designed as a peer rescue system for use in industrial environments. The kit has been designed specificy to enable a rescue to be performed by a person or persons where rescue is not part of their normal job function. It is to be used by the rescuer(s) to remove a person danger without putting themselves at risk by descending to them.
Unlike many industrial rope access rescue systems the Rollgliss® R250 rescue kit is easy to operate owing everyone to use it, no specialist rescue skills are required. The rescue does not involve the use of complex knots or knives – making it an even safer system. Most importantly, the suspended worker can either be raised or lowered by the rescuer to remove them immediate danger until professional medical treatment or rescue support personnel arrive.
To use the system you simply find an anchorage point on the structure that is at least 4.5m the person to be rescued. The kit contains a sm number of pre-assembled components that enables the rescue to be completed in a few simple steps:
* Instation of the system,
* Connection to the worker using the telescopic rod,
* Gentle elevation of the worker using the rigging system,
* Disconnection of the worker and controlled descent.
DBI-SALA's packaged rescue systems are a perfect rescue/retrieval safety solution. You can go onto the job knowing that your equipment is ready to go; toty compatible and built with DBI-SALA quality.
Modular system R350ST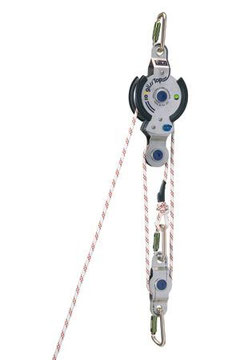 *Top/R350, flanges : anodized aluminium, lateral protection : composite material, rope drum : teflon covered aluminium, including device to adapt pulley
*fixed and running pulley, flanges : anodized aluminium, pulley : composite material
*rope, white braided, dia 9 mm,polyamide,breaking strength > 12 kN,weight/meter : 50 g/m
*hooks strength > 25 kN,opening : 18 mm, high strength steel electro zinc plated
*use, only with original rope, (réf : AG6720XXX) lenght 10 to 340 meters, ascending and descending working load max : 250 kg (2 peoples) - high max : 65 meters
*net weight 1,75 kg (just device)
*0086EN 341 class A et EN 1496 class B