The Anchorages & Tensioner

To ensure the optimum anchorage of the evolution lifeline, DBI-SALA has developed an articulated anchorage with three attaching points, aligning accurately with the cable whatever the direction or angle, to allow consistent distribution of forces at each attaching point.
The end anchorages are required to take up the greatest forces in case of fall which is why their design and construction makes no concessions. The central articulation means that it can be used in any configuration (wall, floor, post, overhead) and the type of solicitation (shearing or pulling away). evolution triple attachment anchorages are compact and discreet fitting in harmoniously with a metal building or structure. Epoxy finish (in a wide range of colours) is also available on request.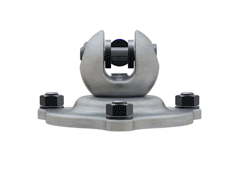 evolution anchorages - Main features
* High strength thanks to the ideal distribution of forces at each attaching point.
* The multi-directional articulation gives the end anchorage the same strength whatever the axis of the cable.
* The triple-attachment anchorage is versatile and can be used on the wall or on the floor or overhead.
* The specific shape and mobility of the anchorage allow the automatic alignment of the lifeline cable.
* Modern design incorporated easily into any type of building.
* Compatible with all DBI-SALA end brackets and absorbers.
evolution cable swaging
To guarantee a faultless link between the cable and the anchorage points, DBI-SALA has opted for swaging as a technical and safety solution that preserves the full strength of the cable at its connection with the end parts.
Integrated into a tensioner or simply fitted with a clevis, the evolution end parts are installed by professionals using specially calibrated tools. Swaging guarantees a definitive and unchangeable connection.
* Definitive swaging guarantees faultless safety at the link to the cable.
* Easy and fast installation, compatible with all DBI-SALA end parts.
* Possibility of adjusting the pretensioning of the lifeline (tensioner).
* No loss of strength at the connection to the cable.